There Is No Wrong Time for a March
I've written several times that the timing of the March is a problem. And I still think that, but on the other hand, is there really any wrong time to march for our rights? Easy answer: No! The conservatives are doing everything in their power to keep GLBTQ people and many others from full equality and protection, but the attacks on LGBT?QLBTQ's is unprecidented. Consider the war being waged against Obama appointee, Kevin Jennings- simply because he is a gay man. A long list of examples can be posted here, but I think the case with Jennings is the perfect example, and the far right seems that they will stop at nothing to defeat him, and Obama.
Many within the LGBT community have been outraged at what appears to be Obama's failure to come through on his campaign promises to the GLBTQ community, and that may be true. But the control of our full equal rights is not in Obama's hands alone. It is our president, our congress, and the whole of the American people to whom we will be speaking at our march and rally.
So, I hope I will be seeing you in Washington this Sunday, because inspote of whatever problems or flaws there are with the march, it is our chance right now to have our voices heard, to unify as one community full of vastly diverse individuals and demand an end to being treated as second class citezens. Achieving full equality may not happen in a single act or by a single law, but to have anything less is unacceptable, and we must keep demanding our rights, and working to achieve them until full equality for all is simply the way it is.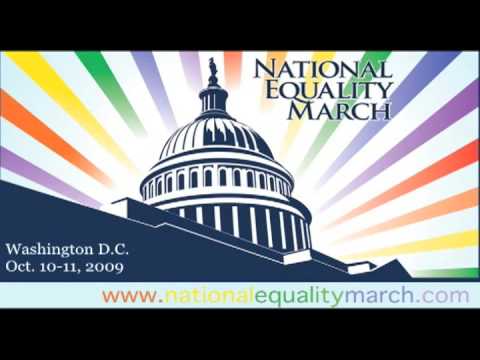 National Equality March™ « Equality Across America.