Chris Brown slams gay rumors as 'lies': Is Raz B homophobic?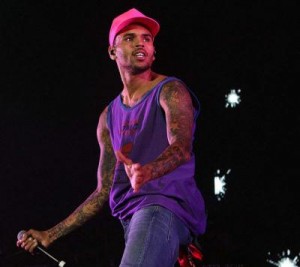 I don't throw arounf the homophobic label lightly, but this rerally got to me. (emphasis is mine)
Writing about Brown, he said: 'What type of man hits a woman? A man that does not honour womanhood or the fragility of it. I also read that most men who beat women have latent homosexual tendencies. So there you go.'
WTF!  Where is this text that says that violent men have latent homosexual tendencies?
I would like to think that the rap world is coming along with the rest of the world and beginning to be more accepting of everyone, but items like this suggest otherwise. if this alone is Raz B's basis foer calling Chris Brown "gay," then he has nothing at all, except for a personal attack. And as a gay man, I'm not too pleased that this is Raz B's idea of what gay is all about.
The LGBTQ community should not be silent on this, and the point isn't about Chris Brown's sexual orientation. Rather, we can not let anyone slam gay people in general by suggesting a link between violence against women and sexual orientation.
via Chris Brown slams gay rumors as 'lies' | Gay Star News.
Photo by Eva Rinaldi