Anti-gay zeal creates criminals: VA Pastor sentenced for aiding in kidnapping.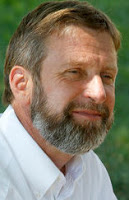 I've written much about what I've called the growing American Theocracy, and will tag this post accordingly, yet I think many readers fail to grasp the severity of that claim, or the issues that will arise if we see these tendencies continue unmatched. I'm not the only one identifying the American Theocracy, but few LGBTQ bloggers are paying enough attention to this trend, except to ridicule or laugh at the Christianists.
Pastor Kenneth Miller has been sentenced to 27 months in prison for his role in the kidnapping of the child of a lesbian mom whose former partner "renounced homosexuality" and fled with their child to Nicaragua in violation of a court-ordered custody sharing arrangement. Miller spent 30 days in jail for contempt earlier this year after refusing to name his accomplices, telling the court, "If I were to bring testimony against a fellow member of Christ's kingdom, for honoring Christ's kingdom's laws, I would be disloyal to his kingdom and to Christ."
But the Religious Fundamentalists are not a joke, and the LGBTQ community needs to consider seriously what their opposition may mean for us. It should not slow us down as we seek full equality, but we recognize the lengths they will go to to stop us from having fairness and equality.
The opposition isn't just to Marriage Equality, but to the acceptance of gay, lesbian, bi, trans and queer people in any way. As individuals and as the families we create, we are seen by them as evil. Let's be clear, the "them" isn't all religious persons. Religion isn't the culprit. Rather, those individuals who place their own beliefs as above the rights of anyone else- they are the culprits. Pastor Miller is a perfect example. He has been to jail once (30 days) for placing his theology  before the Constitution- something utterly opposed to the beliefs of our Founding Fathers. And now he has been sentenced to 27 months for his role in kidnapping a child to block a court ordered custody sharing arrangement. Imagine having your child taken away from you by a person like this Pastor Miller.
How far will they go?
I ask this in all seriousness, and as we move closer and closer to achieving our goals of Equality, I think we also have to be ready for things to get crazier.  This is a post I wrote sometime ago, quoting Rick Santorum, that I'm surprised hasn't received more attention.
He [Santorum] sees (and values voters see), their source of power "as the family and the church." These are the methods of organizing people within which they believe they have power. Therefore, their every effort is devoted to protecting these two structures. This is why a fight for LGBT Rights is a moral fight for them, and winning over LGBT Rights is more important than anything else. It is bigger than abortion; bigger than women's rights; bigger than anything, because no issue touches the family and the church as much as the acceptance of gay people-at least from their perspective.
Rick Santorum Declares Stopping Same-Sex Marriage is the Hill Upon Which He Will Die, is the blog post title on Angry Black Lady Chronicles. What a severe statement, and yet, it is a clear and honest sentiment by Santorum:
The battle we're engaged in right now is same-sex marriage.   Ultimately, that is the very foundation of our country, the family, what the family structure is going to look like."  [Santorum nods thoughtfully].  "I'll die on that hill."
We only have to look at the battle zones surrounding the Black Civil Rights Movement; Abortion Clinics; and The Gun Rights battles to see  the way high emotions and blinding religious absolutism can drive people to extremes one would never imagine. Time will tell if this really is the hill upon extremists like Santorum will wage the most major battle.