Tag:
DADT
Petty Officer 2nd Class Marissa Gaeta (left) shares a historic kiss with her girlfriend of two years, Petty Officer 3rd Class Citlalic Snell, at Fort Story in Virginia Beach on Wednesday. It's a tradition at Navy homecomings that one sailor is
It wouldn't be too off the mark to say that Marine Commander Amos, didn't have many friends within the LGBT movements during the month of December. He was seen as an outspoken opponent to the repeal of DADT. Even I
I'm in Washington DC, and it was especially exciting last evening to be here while the Senate voted to repeal DADT. I'll blog more about my trip in general later, but wanted to share some thoughts about this historic event,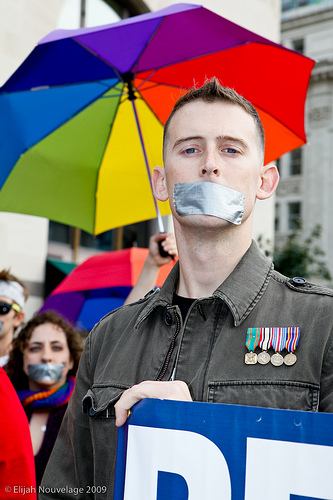 In other words, two of the least most influential Senators may have crafted a real bipartisan bill that Harry Reid and the White House can support. Something neither Mr. "Bi-Partisan" President nor the majority party could do.
This post on The New Civil Rights Movement blog, sets out expressly to thank Sara Palin and Joe Miller for creating the environment that led to Murkowski's win. I appreaciate the snear towards Miller and Palin, but I think the real
For anyone following most every LGBT Rights story, it is a roller coaster of ups and downs. Unfortunately the "downs" seem to outnumber the "ups" most times. But one breaking story this week is especially important to consider. The story
Within the hour, the Senate will begin to debate, if they can over-ride a filibuster, the appropriations bill that includes eliminating DADT after 17 years of destruction to the lives of gay and lesbian service members. If you haven't already,
The degree to which the very Constitution, or at least what it means is at stake, should give anyone from the progressive left to the vast moderate middle a pause, and then help them hurry to the ballot box to
When I was in the military they gave me a medal for killing two men and a discharge for loving one.