The linked blog post on the Huffington post was actually about Health Care Reform, and is a good read on that subject, but a photo on the post really captured my attention, and prompted me to step back and think about the bigger picture.
Tea Party Protests: 'Ni**er,' 'Fa**ot' Shouted At Members Of Congress
If it is being this difficult for lawmakers to pass Health Care Reform which will truly benefit everyone, how will they ever make progress on LGBT issues? It isn't the lawmakers I am most worried about, but rather the growing mob.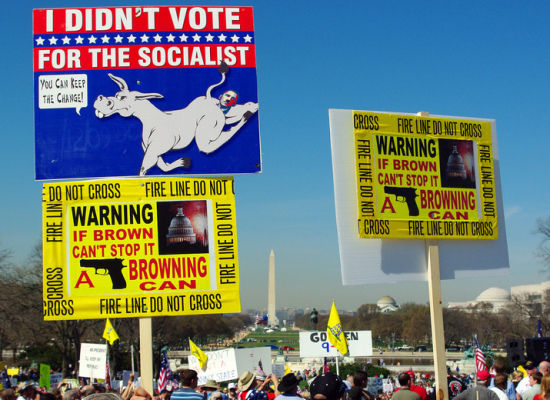 The sign that really captures my attention s the yellow one on the bottom. This crosses the line past free speech in my opinion.
If you read the full story, there is a statement by Senator Clyburn. He rightly points out that this backlash and the expression of intimidation isn't really about Health Care Reform, but it is about a power struggle where the sentiments of the "old South" where race and difference were not treated with respect or value are trying to be re-introduced into today's discourse as acceptable.
How much rougher will it get? My guess is, much rougher, and maybe quickly. On the other hand, the crowd pictured here, is quite small, and this mentality may not represent even a majority of conservatives.
An iconic image for me, is the one of the federal troops escorting the black children into a school- do you know the image? Â How much can we expect there to be an angry mob protesting the rights of gay, lesbian, bisexual, and transgenders? I think in places, if we can count of the police or the federal officers to support us, it may end up looking like that.
Tea Party Protests: 'Ni**er,' 'Fa**ot' Shouted At Members Of Congress.