The other day, I received an invite to like a new page on Facebook for "Xtreme Bingo." This appears to be a new project of the Delta Foundation of Pittsburgh. The "about section" boasts:
This is more than your basic B-I-N-G-O . Welcome to Xtreme Bingo…it's bingo on the edge! We'll have games that have never been played in Pittsburgh before, national entertainment that will knock your socks off, a fully stocked bar and delicious food.

Each month, the Delta Foundation of Pittsburgh will be inviting a local non-profit to be our partner.
I found this really intriguing, given that Outrageous Bingo is the primary fundraiser for two other Pittsburgh organizations- the Gay and Lesbian Community Center (GLCC) and Shepherd Wellness Center. There is a long, long history of tension and strained feelings between Delta and the GLCC, that I think each group blames the other for starting. So, I admit, I was both very surprised, and at the same time, not the least surprised to see Delta do something that appears to directly compete with the GLCC for fundraising.
But will it? For as long as there has been Bingo in Pittsburgh- which has been for a very, very long time, some folks have talked about believing the City could support more than one night of Bingo each month. It is very possible that adding another Bingo for Pittsburgh will simply provide more opportunities for game play, and everyone will benefit. The two efforts may also draw different crowds, as Outrageous Bingo serves no alcohol, and Xtreme Bingo will offer a full bar. One friend I mentioned this to remarked, "Just what we need,  another gay bar type event." I'm not sure if he represents a majority or minority opinion however. It could also be that Xtreme Bingo will operate during the months when Outrageous Bingo does not. Or Xtreme Bingo may cause Outrageous bingo to re-invent itself and grow even better.
Nothing really exists to better understand this venture. While the Facebook page has a URL for a website, following the link takes you to a GoDaddy landing page and not to a website at all. A quick search doesn't locate the owner of the domain name, but there are other Xtreme Bingos in other cities.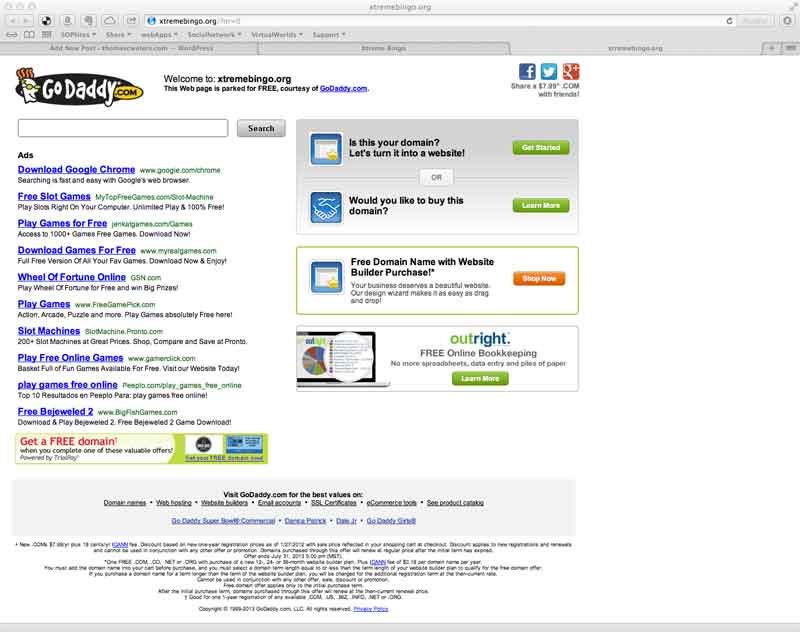 It's possible that a site is under development, but it is pretty tacky to publish a URL that doesn't go anywhere. In my experience, Delta is often really great at the BIG PICTURE and creating vision, but falls short on the details. So, this may be an illustration of that.
Delta has done some amazing things for Pittsburgh. Pittsburgh Pride is a huge, tremendously well attended set of events that has helped make the region's LGBT community visible. Pride here, is a real destination Pride where people from all over come to experience what we do better than many other cities. Pride has also allowed the city, overall to benefit which is very good for the region. All of Pittsburgh, not only the LGBT community benefits. Delta took their Pride Mag and turned it into a monthly periodical which seems to be doing a great job of displaying the rich diversity of Pittsburgh's LGBT community.  There are many folks who love what Delta has done.
On the other hand, it is easy to find those who  see Delta as a bully who has to have things their own way or else. Pride is viewed by some negatively, and events like the yearly pool party Splash give the gay community a bad rep as Delta brings in porn stars and strippers to spice up the event. Some claim that after the Delta's party officially ends, the pool party continues as one big orgy. I don't know- I haven't attended. Personally, I do think both positions, pro and con Delta can be justified, and I'd rather see all the good that has been done by Delta, than be in a city without it. I just think if we are ever going to really grow as a LGBTQ community and be a thriving part of Pittsburgh's ongoing growth, we will have to see all of the various LGBTQ and supportive ally groups work more together and less in opposition to each other.
Time will tell what Xtreme Bingo will do. Perhaps it will, like Delta's EQUAL magazine enhance Pittsburgh, or perhaps it will harm other organizations' attempts to raise money. Let's hope for the former.
Full disclosure: I used to be a board member for the Delta Foundation, and left the board in August of 2012 to put more time into this blog and other projects.