Blogger's note: link added to the "awesome" post mentioned below and published a few days later. 
A reader to my blog sent me a link today with a note to say that he and his friends would be boycotting all Pittsburgh Pride events this year since Delta practices age discrimination. I was like, WTF! Really?  Delta can be criticized for many things, but age discrimination was a new one to me.
And I was about to write about Pride and some of the awesome things Delta has going on this year.  I guess awesome gets accompanied by unbelievably stupid? so the awesome will be in another post. I promise.
For the record, I served on the Delta board for three years, and left the board a year ago this coming August. I submitted my letter of resignation directly before Pride last year. The age discrimination controversy concerns "Splash" a fundraising pool party held every year at the home of two of the Delta board members up on Mt Washington. In the past the party has been a fun event raising a good amount of money. Then, after the Delta fundraising portion of the evening ends, the party continues as a private party by the homeowners. I'm told the party gets pretty raunchy after it turns private.  I've heard it described as everything from "just a fun time" to an all out orgy of sex, drugs, and alcohol. I've never been. I have no idea exact how true that is but the stories can be pretty graphic. These homeowners are the guys who own Pittsburgh's gay sex club, Club Pittsburgh.
Delta does however, hire entertainment for this party. Strippers and pornstars from all over fly in after being selected and hired. these dancers and performers also entertain at Pride in the Street on Saturday night. You know, those hot guys in skimpy shorts throwing out glow lights from the stage?
It's all in the name of fun, right? Personally, I have no trouble with a male-themed party. I've been on enough gay cruises to say there is a power, and energy, and celebration to be in the midst of a crowd of men dancing and being gay.  Gay cruises however, don't prime the pump with pornstars and strippers. The crowd is what the crowd is, and gay cruises aren't orgies. Really. There is something kind of suspect about needing to fill the crowd with sex workers. Pittsburgh has plenty of gorgeous guys. Is that really needed.
As a board member, I was never fond of this fundraiser, for the above reasons. Yet it made money, so I focused on what I cared about, which was LGBT Issue Advocacy, and realized I was fighting a losing battle to change this party.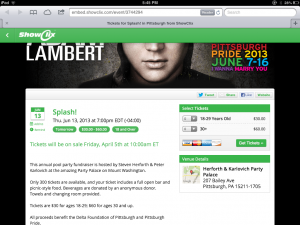 As if sex workers aren't enough, this year Delta has really done it. They have different ticket prices based on age. If you are 18-29, then tickets are one price, and if you are 30 or older (over the hill?) they are double that. To my reader who sent this to me, this is blatant age discrimination.
Maybe they just feel that younger people have less money and older people have more?  Or maybe it is like what a bar or bathhouse does. Offer free admission for the young twinks, so the place is packed with hotness, and that will attract more older guys who want to lust after the young ones. Given the history of priming the pump with sex workers, which do you think is the more accurate motivation?
A number of folks in Pittsburgh complain that the Delta board is made upon men with their own personal agendas. Events like this  only add fuel to that fire. What are their real motives? I don't know, only the Delta Board knows.