Blogger's note: Received this as a press release today: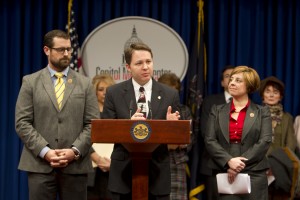 HARRISBURG, Jan. 6 – As part of a larger effort to address the concerns of Pennsylvania women, state Reps. Erin Molchany, D-Allegheny, and Brian Sims, D-Phila., introduced a bill today that would clarify and update the legal standards for pay-equity lawsuits.
"The average woman earns 84 cents for every dollar a man makes. In the Pittsburgh region, the wage gap is closer to 73 cents per dollar," Molchany said. "While the entirety of the wage gap can't be blamed on discrimination, the fact that any of it could be attributed to someone's sex demands attention."
( added emphasis is mine)
House Bill 1890 would update the conditions under which employers could pay different wages because of a factor other than sex. These factors would include specific, job-related attributes such as education, training and experience. The bill would also strengthen anti-retaliation protections for employees attempting to bring a pay-equity lawsuit against their employer and those who share information about their pay.
"Pay-equity laws have been around for 40 or more years," Sims said. "Clearly it's time to strengthen and update them to bring about real pay equity for the many working women in Pennsylvania who are still shortchanged."
House Bill 1890, which was introduced with 45 bipartisan cosponsors, is a part of a larger package of bills supported by the Pennsylvania General Assembly's Women's Health Caucus.
"The agenda is not just about reproductive health," Molchany said. "It's about economic justice, support for families, and making Pennsylvania a national leader in supporting all of its citizens with the tools to succeed."

"We live in a country that guarantees each of us full equality under the law," Sims said. "Right now, in this country and in this state, more than half of our population is being insidiously discriminated against. This bill is long overdue."
This legislation is part of the Pennsylvania Agenda for Women's Health, which also includes workplace accommodations for pregnant women, sanitary conditions for nursing mothers, increased eligibility for breast and cervical cancer screenings, protections for domestic violence victims and a ban on intimate partner harassment (often referred to as "revenge porn").
The Women's Health Caucus is a bipartisan, bicameral group of legislators partnering with interest groups and advocacy organizations seeking to develop and implement legislation and social policy that protects and respects a woman's right to make private, personal medical decisions.