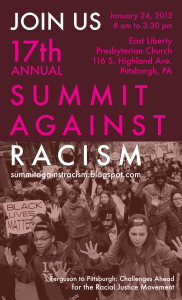 I encourage all my Pittsburgh readers, to save the date and plan to attend the 17th Annual Summit Against Racism, to be held January 24th, at the East Liberty Presbyterian Church. I've been attending this event for the past five or six years, and it is a tremendous event. It doesn't matter if you see yourself as someone firmly rooted in the effort against racism, or someone who doesn't really grasp what it all means– this gathering has something for you. If you are one of those persons who thinks too big of a deal is made about racism, this is the perfect place to be– to listen to others and hear their stories. I assure you, it will open your eyes to see how real this issue is and how it impacts real lives, when all of the television hyperbole is stripped away.
There is always an LGBTQ contingent at this event, but it could really be much larger. In my experience, there is little overt racism within the LGBTQ community. No one is yelling about hating the Blacks, or anything, yet one can't help but notice how the queer community is very segregated and no one is really talking about how structural racism impacts the inability for our community to be more inclusive, especially the gay male community.
I learn the most at this event by listening, and by being engaged in conversations with people who are not a part of my regular routine and circle. I always leave grasping, in a bigger way why fighting racism matters, and a resolve to keep confronting privilege in my own life.
More info: http://summitagainstracism.blogspot.com