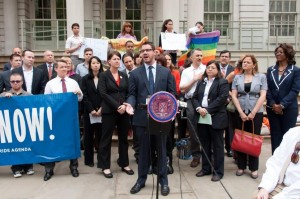 Yesterday, Empire State Pride announced their plans to wind down operations and cease operations in 2016:
After 25 years of groundbreaking advocacy and service to New York's LGBT community resulting in over 100 state legislative and policy victories, The Empire State Pride Agenda, New York's statewide lesbian, gay, bisexual, and transgender (LGBT) civil rights organization, will conclude major operations in 2016.

The Boards' decision comes on the heels of securing the Pride Agenda's top remaining policy priority – protecting transgender New Yorkers from discrimination in housing, employment, credit, education and public accommodations – in the form of new regulations announced in partnership with Governor Andrew M. Cuomo at the organization's Fall Dinner on October 22, 2015.
As much as the press release paints their history as victorious, the reality is that immense issues remain facing the rainbow queer community.  Increasing HIV infection rates affecting men who have sex with men; homeless queer youth and the problem of these vulnerable youth entering prostitution and human trafficking; income disparities and lack of adequate avenues out of poverty; problems of housing and support faced by a growing population of LGBTQ elders;  are but a few of the myriad challenges that face the broader community. And no matter how much Empire feels they have "secured" trans protections, in reality, the governor's executive actions can be undone. Trans protections in New York are far from secured. Real protections come in the form of lasting legislation, which is stalled in the New York senate.
The divide is mainly class-based. The items that most interest middle and upper class white gay men and lesbian women are intact. The 25 years of "ground-breaking victories" have accomplished that. But the more challenging issues remain untouched or unfinished because the recipients of these other needed benefits are not represented or are under-represented in groups such as Empire State Pride.
If there is a positive side to an organization like this closing down, it is the opportunity for new organizations to be formed and compete for the resources needed to do the really hard work on the many unfinished issues. But my fear is that this won't end up happening. Issues related to poverty, homelessness, the elderly, and the otherwise marginalized will become invisible to the affluent white gays and lesbians who will sit on their laurels happily boasting of their 25 victorious years.
On the other hand, as we have seen with marriage equality, many of the answers to LGBTQ issues should come at the Federal level and be uniform everywhere. Pushing for legislation at the state level prolongs the time it takes to see these issues addressed nation-wide. But who will spearhead federal efforts?
Here in Pennsylvania, we may be in better shape to see continued efforts for the whole LGBTQ community, but time will tell. In recent efforts to create a long-range plan for Equality PA, a state-wide advocacy organization, participants cited a variety of issues that could be addressed by the group once non-discrimination protections are in place. Indeed, the fact that Pennsylvania lacks protections in housing, employment and public accommodations, may be the thing that keeps Equality PA going long enough, so that it can address other issues in addition to this nondiscrimination protections.
As valuable as national marriage equality was, it was also detrimental to some degree. It created such a groundswell around a simple and potent message, that it left little oxygen or other resources to be devoted to those issues and problems which cannot be so easily distilled into a happy message. Like a tidal wave, marriage equality efforts leveled much, so much so, that too many LGBT groups are now unsure how to move forward, and misguidedly see their work as complete. And since almost none of these groups where adequately inclusive of trans persons and persons of color, they are ill-prepared to move forward on issues important to the whole of the queer community and especially these marginalized groups.  In Pittsburgh, the Delta Foundation is a lot like Empire State Pride– busy touting it's victories which seem guided to a mostly while gay male constituency.
For me personally, the most important issues facing our community are 1) queer homeless youth and 2) bringing a real end to the HIV/AIDS epidemic. Neither are easy problems with simple slogan-based solutions. I can only hope that as groups like Empire State Pride go away, they will be replaced by truly inclusive groups of young activists and advocates willing to and capable of working n these and other crucial issues.