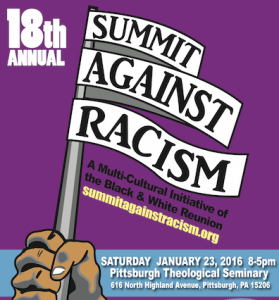 Yesterday, I participated in the 18th annual Summit Against Racism, and wow- was it amazing. Every year, I always leave at least one session at the summit, thoroughly blown away, but this year that just seemed to be compounded. I'm grateful I was able to be in every session I attended as well as at the summit overall.
Meeting new people
One aspect of the summit I especially appreciate, is the ability to meet people I might not otherwise come into contact with. So, I always try and seek out a seat with people I don't know, and then make a point of saying hello and introducing myself. For me this isn't easy. I'm fairly introverted in person, but the payoff is always good, so I make a point to do it regardless if it feels hard.
At breakfast this placed me at a table with a mother and daughter who both were on the planning committee. At lunch, this placed me at a table that was the most diverse group ever. Our lunch discussion will remain a highlight of the day. A woman asked me why I attend each year. Part of my reply was that as a white male, I often don't know what I don't know. I have to have an open mind to learn about other's perspectives and other's experiences, and that must be an ongoing process.
I want to give a shout out to Etta Cetera, who served as the summit coordinator. Etta is an amazing activist and I saw her influence everywhere in the summit. I am always inspired to grow as a person and as an activist by her. If you are part of the activist community in Pittsburgh and don't know her, seek her out as someone to learn from.
Sessions
The opening ceremony session was powerful. The number of young people involved was tremendous. The future depends on raising our young people to be leaders and involving them as leaders now sets that trajectory in place. Unfortunately, because of the snow, Leon Ford wasn't there. Hearing him is always inspiring, but even without him, there was much to be inspired by.
I participated in four sessions throughout the day– one as a panel member and three others. There were over 30 sessions planned and while some were cancelled because presenters couldn't get there, there was still far too many to select from.
Community Control of the Police
I chose this session for two reasons: 1) because of my involvement with the Citizen's Police Review Board, and 2) because it was listed as presented by the National Mobilization Against Police Brutality and the Fraternal Order of Police (FOP) which is the police union. I'm very glad I was in this, but the session fell far short of what was advertised. The slideshow used was prepared and presented by a new national black afrikan political party and there was no noticeable involvement by the FOP. I was expecting some groundbreaking cooperation between the community and the police union, but didn't get that at all.
There was plenty of good information provided, laying out the problems with the current state of policing, although there was nothing presented that couldn't be gleaned from reading Facebook. There were two audience members who monopolized much of the discussion– one being a speaker in a later session. This was a little disappointing but not surprising. It illustrates how under siege the black community feels and the urgency with which they seek change. Urgency frequently leads to persons feeling as if their ideas must be heard as more important than what others may have to share. And this urgency makes perfect sense. Policing and the black community is no small issue– it is huge.
Towards the end of the session, verbiage on the presenter's slides raise a controversy where police were being called pigs. I have begun a post about that specifically, so for now I'll just say that everything the presenters were saying would have held up as meaningful without the derogatory name-calling. It added nothing to their presentation nor their call to action.
Community Accountability in Activist and Organizing Spaces
This session was already in progress as I entered, and the organizers had had the larger group break into three smaller groups to work. The group was disproportionately younger folks which was amazing and wonderful. As an activist, it is easy to fall into a mindset/fallacy that everything depends on how hard I work– how's that for ego? The reality is that everything depends on the work of many, and we can each trust that there are others out there who are doing great work. Watching this group of mostly younger organizers seeking ways to do more inclusive organizing supports that.
I limited my engagement to mostly listening and supporting the process that way. I interjected twice offering ideas about why a suggestion made by someone else was important. The future may be in very good hards with younger activists working so hard to do inclusive work.
Accountable Accountability
This session was the one where I served as a panel member– my role to talk about the work of the Citizen's Police Review Board (CPRB). We had an awesome dialogue although for me it was a little frustrating. In my opinion, too often national stories such as Freddie Gray, are raised, where we have no power or direct engagement in them. I believe we can accomplish more by focusing on local issues and stories where we can have a direct impact.A community member talked especially about Chicago, and thus implying that their issues are our issues, and this isn't entirely true. In an hour-long session there isn't time to unpack how Chicago and Pittsburgh is alike or different.
Still the whole discussion was excellent and included dialogue about the role of the District Attorney in finding justice for those harmed by improper police action.  As Brandi Fisher mentioned, community unhappiness with boards such as the CPRP and the HRC grows from the community's desire for justice. Providing justice isn't the mission of these boards. Their missions revolve around around fact-finding and public visibility, crucial steps towards justice, but entities outside of these boards are ultimately responsible for granting justice. Understanding the whole of the interconnectedness of different bodies of power and agency is essential.
Violence against Women, Girls, and the LGBTQ community
For me personally, this was the session that left me most blown away and so proud to have been here as a part of a group tackling big issues and setting a course for change.
CAV (Greater Pittsburgh Coalition Against Violence), an initiative of B-PEP (Black Empowerment Project) has been creating a manual to combat violence, and in this session, distributed two additions to what is already published. The sections dealt with violence against women and girls and violence against the LGBTQ community. B-PEP was seeking comments and ideas for adding action items to these chapters in the manual.
Much of the discussion centered around understanding language regarding the LGBTQIA community, especially language surrounding gender identity and expression. Like a previous session, I chose to be mostly quiet here. There were young queer and trans identifying persons whose voices deserved to be heard, and it was an honor to listen and bear witness. I offered only that there is a guide for media, created by GLAAD in response to a freelance journalist's comments.
At one point, one of the presenters described trans as a "male who feels trapped in a female body," ad we had an extensive discussion about how that is rhetorical violence against trans persons and demonstrates cis privilege. As a cis person, I would never describe myself as "feeling as if I were a man," so why do we suggest that a trans person's identity is about a "feeling as if"? Really great dialogue.