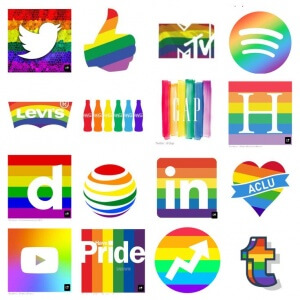 Parts of the queer community struggle with corporate involvement with the LGBTQ movement. For example, in a few months, America enters Pride season and some queer activists will bemoan corporate involvement with Pride activities–claiming that these corporate sponsors 1) make demands inconsistent with the ideas of LGBTQ liberation, and 2) that they are only doing it for the money they can extract from LGBTQ consumers. But there is another story to tell when it comes to corporate involvement. The linked Salon.com article alludes to this, although to be honest, I don't completely agree with the author's slant on the story. From the linked article is from Salon.com:
 The cynical view, of course, is "money talks," specifically Hollywood money. And it's true that Deal caved under pressure from many corporate interests, especially in the entertainment industry, that said they would pull business from the state if this law passed. Disney, Time Warner and the NFL have all threatened to take their business elsewhere if Deal signed off on this law.
I don't think it is the cynical view at all. Money does talk, and especially at the State level (the level at which we are seeing a dizzying array of anti-LGBTQ legislation being pushed forward). States have to care about jobs and revenue, and when those bringing the revenue to a state threaten to walk away, a state has little choice but to listen and comply.
One of the things Salon has wrong, is that it wasn't only Hollywood/entertainment who threatened to pull out of Georgia. This from Money.com:
Major corporate leaders are lining up to denounce a controversial "religious liberty" proposal they say would severely curtail the rights of Georgia's LGBT community.
Salesforce (CRM, Tech30), Disney (DIS), Unilever (UL) and Intel (INTC, Tech30), along with a coalition of media and film companies, have spoken out against the legislation, which has been approved by state lawmakers. They've been joined by groups that represent hundreds of other major firms.

Georgia Prospers, which represents more than 480 companies, is a staunch opponent of the bill. Members include some big companies with large operations in Georgia — including Coca-Cola, Delta, Home Depot, UPS, and Marriott.

Tech giants Apple, Microsoft, Twitter, and Dell have urged the governor veto the bill.

Many of the businesses who publicly oppose the proposal have issued strong statements. Some have gone further, threatening to reduce investment in Georgia if the measure becomes law.
Why such a big corporate push? Because diversity and inclusion in and of itself, are good for business, and businesses want and need to prosper.
LGBTQ Rights groups have for the longest time, been counting on Government to take the lead and make LGBTQ equality a reality, but let's face it: government at every level has not been successful in this regard. For every political victory, we can find political failures, such that all in all, our current political system has left many out in the cold when it comes to equality. (This is true when it comes to diversity and equality for women and minorities as well as LGBTQ persons, but I'll leave that for a different post.)
At the federal level, ENDA, first introduced as far back as 1974, was meant to end discrimination for gays and lesbians. In 2007, gender identity/expression protections were added, and at no point has this legislation had much of a chance to get enacted. Currently, there are efforts across almost half of America to pass anti-LGBTQ legislation, with some states like North Carolina succeeding. In other words, regardless of what political involvement LGBTQ Rights groups have had, they are failing at the same time corporate involvement in political process is succeeding.
On a very deep level, this all makes sense. Equality, diversity, and protections from discrimination have never been political/partisan issues. They are social and economic issues through and through. Indeed, in the work I've done trying to get Pennsylvania o pass HB/SB 300, the main talking point, is that nondiscrimination protections are simply good for the state because they are good for business. So, why shouldn't it be business which is taking the lead at forging new protections or defending existing protections?
The queer community in general, and LGBTQ Rights groups have to come to terms with the shifting playing field when it comes to the path towards full equality. Queer persons need to stop dissing corporate involvement in the queer community and start seeking ways to be in partnership with business's efforts to achieve protections that enhance and support diversity and inclusion.