Last week, I had the pleasure of seeing Pittsburgh Public Theater's production of Venus in Fur, a play by David Ives. This is the GAYEST show about two straight people, you are ever going to come across! It is must see theater, in my opinion, and everything about the show is stellar.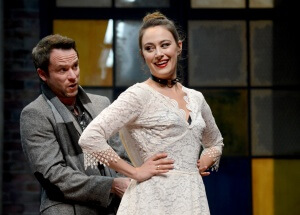 At the heart of the play, is the story of an actress who goes to an audition to star in a play. The interaction of auditioner and auditionee intertwines with the interaction of the inner play's characters, till they are indistinguishable. But deeper than this surface level story, is a play about passion, desire, liberation, submission and power. Whose auditioning for whom anyway?
I have really fond memories of when I was a crazy kid in my twenties and a guy I dated, for a summer. It was a tumultuous affair, easy to be remembered for the insanity of it all. We were so not meant for each other, yet what I remember with much fondness was that we used to spend whole naked days in bed, reading Micheal Foucault and fucking. We would take turns reading passages out loud, then ponder, then internalize, as we let our passions guide our hands, our mouths, and our minds. The sex we shared was some of the very best sex of my entire life, due in no small part to the mix of intellectual stimulation  with physical exploration.
Foucault: "… sexuality is not a means of reproducing the species, the family, and the individual? Not simply a means to obtain pleasure and enjoyment? How has sexuality come to be considered the privileged place where our deepest truth is read and expressed?"
My first full time job after college was as an intern for a professional theater company in Cleveland Ohio, called Bread and Circuses. The theater's director,Kirk, had written an adaptation of Genet's The Maids. He had overlapped a black magic ritual, adding a high priest and acolyte to the original scripts three characters, to emphasize elements of ritual, sacrifice and power. Genet has very clear notes about who is to play the young housemaids, Claire and Solange– young pubescent boys. I, being the thin blond twink fit well within Kirk's scenario. The Maids is albeit, a far more twisted tale, yet the underlying foundation of desire and liberation through submission is alike. Unlike Kirk's heavy handed adaptation, Ive's play (a play about a play which is an adaptation) connects all the dots seamlessly such that the audience can't help but become entranced and bound up by the interaction on stage.
All of this is to say, that watching a beautifully produced show where two talented actors made real a tantalizing story left my mind excited and alive, bringing back memories and prompting new thoughts and ideas. Can it get any better than that?
I really don't want to give anything away. You deserve to relish in the full experience of a fine play performed by talented actors, which will catch you and get you to willingly submit. You will laugh and enjoy until you can not help but love it.
Venus in Fur runs till June 26th. Tickets and info here.
PS: In my exploration of links and quotes  for this post, I came across this one, Scientia Sexualis, which is great reading.