I was struck today, reading the various posts on Facebook, regarding memorial Day, as individuals remembered family, friends, and military members in general. As it should be– this is a day to remember and have respect for the sacrifices too many have made for our country. This ability to share stories is a positive aspect to Social Media.  We can engage with shared details from one another to a degree not ever possible before.
My mind always goes in two directions when I think about Memorial Day, and I want to talk about one of those here.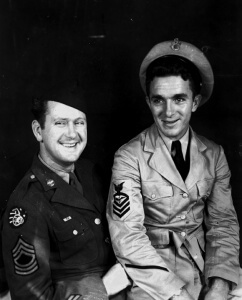 A number of years ago, I was rummaging through bins in a thrift store in Santa Barbara California, and I found this 8″ x 10″ negative, reproduced here. I thought the portait looked definately like a gay couple– two service member's relationship being documented by a professional photographer. An 8″ x 10″ negatve comes from a large format view camera. The type that looks like a big box and the photographer stands behind the box and covers his head with a cloth to be able to see the image on the ground glass at the back of the box. This is not an instamatic picture taking experience! Rather a formal, seated, portrait. What do you think, do these guys look like boyfriends?
Gay men have probably been a part of the US military since the very beginning. Gay boys don't feel patriotism any less than straight boys and in the decades before the identity, "gay" was even used, queer men would have joined and fought. The end of Don't Ask Don't Tell, didn't introduce queer men to the military. It merely allowed those men(and women) to serve their country openly without fear of being found out and dismissed.
In his seminal text, The Construction of Homosexuality, David Greenberg goes so far as to attribute the development of a gay culture to the military and the two World Wars. Never before in the history of our country had there been such an influx of young men returning to industrial cities rather than to a more agrarian country. I believe people are born with a homosexual orientation, but I believe our ability to identify based upon it, is a modern construct and has a strong connection to our nation's military pursuits.
And that takes me back to this picture.
On Memorial Day, we remember and honor our service members past and present. We acknowledge their commitment and sacrifice and service. If we are open to seeing these men and women as full human beings, we must remember that their relationships matter too. These folks are not to be remembered simply because they are service members, but being service members is just one aspect of their entirety. Those who have lost their lives in defending America were not just soldiers, but loves, boyfriends, girlfriends, husbands, wives, parents, siblings, and children.